Slip On Truck Bodies by Fleetwest
If you are looking for Slip On Truck Bodies that are designed to out last several trucks, look no further than the Load 'N Go line of utility service bodies by Fleetwest.
Most service utility bodies for pick up trucks require you to have holes drilled in your truck. And once the service body is attached to your truck - that's it. You're truck is married to it.
If you upgrade or replace your truck, you either sell the utility service body with the truck, or pay someone to remove the service body and have it installed on your new truck.
Not any more.
If you are a small contractor or manage a fleet of service trucks, how would you like to be able totransfer the utility service body from one truck onto another in a few minutes?
And no holes drilled? And no welding?
Fleetwest specializes in manufacturing either fiberglass or steel service body inserts for pick up trucks of all sizes, makes, and models. And Advanced Northwest Welding,LLC, is now your local distributor for the Slip On Truck Bodies by Fleetwest.
Contact Advanced Northwest Welding, LLC today to discover how a transferable utiltiy body can save you time and money.
Load 'N Go Slip On Utility Body
The Load 'N Go is the first removable, full size utility service body, that transforms your pick up truck into a multipurpose work truck in a matter of minutes.
And no drilling of holes.
And no more welding.
The Load 'N Go Utility Body is made of HD 16-guage steel, so you know it will last for years. In fact, the beauty of this utility body system, is that you can keep your tools in the utility body, and replace the pickup truck according to your fleet's normal replacement rotation for vehicles.
And if a vehicle experiences significant mechanical problems, or if the vehicle is involved in a minor collision, no problem, just remove the Load 'N Go Slip On Truck Body, and place it into a new truck body. You are quickly back in business. Saves you money.
This unique utility service body, available from Advanced Northwest Welding, LLC, has the following standard features:
More space for your stuff! The standard 8 foot utility body typically has a capacity of only 42 cubic feet. The Load 'N go has 60 cubic feet of storage!
Heavy Duty 16-gauge S-10 Jet-Kote steel compartments, with double panel doors. It will probably outlast your tuck.
The inside floor is made of heavy duty steel with a spray-on load liner. More safety for your heavy items.
Two adjustable shelves with a capacity of 150 lbs
Stainless steel "T" handles, with a built in cylinder lock, and includes the ability to use a pad lock.
Overhead doors have pneumatic door assists
Built-in permanent forklift tunnels for easy mounting and removal of your Load 'N Go utility body
Utility bed width of 48.5-inches, which means you can haul standard 4 ft x 8 ft sheet materials.
If you are event thinking about buying a truck with attached service body, contact Advanced Northwest Welding, LLC first and see what your options are for using a truck vehicle you may already have, and how a Load 'N Go Slip On Truck Utility Body may save you money.
Load 'N Go Lowboy Slip On Utility Body
The Load 'N Go Lowboy is very popular with those who want the ease of transferability while being light enough to be installed and used in a one-half ton pickup truck.
And the good news is that you won't have to perform any modifications such as drilling of holes or welding to your truck in order to get the Lowboy to fit. If you have a standard pickup truck, the Lowboy will fit.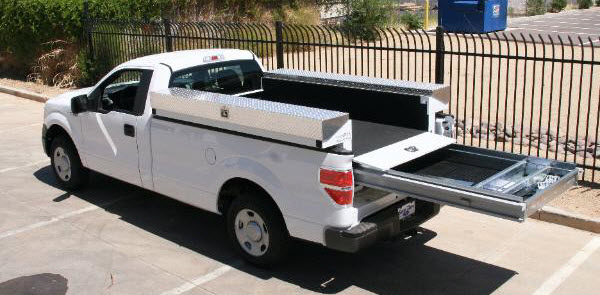 The Lowboy utilty bed combines the security of steel with the lightweight of aluminum diamond plate to make a large roomy storage. This tool box body is tough and is designed to last for many years.
In fact, this just might be the last tool box you may ever have to buy, as it will probably outlast many trucks.
And how does this benefit you and your business?
Simple.
The big benefit for you is that technnician downtime is minimized if something happens to the service vehicle.
For example, if your vehicle is in the shop for service, your technician can still be working with all his tools in a rental truck.
Just transfer the Lowboy and all the contents and tools to the rental truck, and in just minutes, your technician can be back on the road making service calls.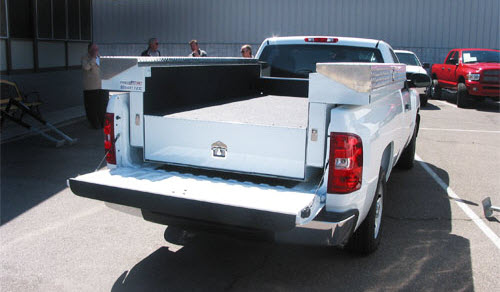 The Load 'N Go Lowboy includes the following benefits:
Universal fit fall major brand, standard pickup trucks which means no special orders.
Fits your existing and new fleet vehicles
Secure storage by using standard key locks AND pad locable handles
Built in forklift tunnels and lifting jack receptacles for quick and easy installation and removal
Short bed or long bed pickup trucks, we have a Load 'N Go Lowboy to fit
For obvious reasons, the Load 'N Go Lowboy is very popular.
To get a quote for purchase of one slip on truck body or ten, contact Advanced Northwest Welding, LLC today.