Highway Products Tool Boxes and More
Highway Products tool boxes are well known for their craftsmanship and dependability. But did you know that Highway Products, Inc. makes more than great truck tool boxes? They also make sturdyflatbed truck bodies, service bodies, cab guards, underbody tool boxes, trailer bulk heads, 5th wheel tool boxes, RV haulers, trailer tongue tool boxes, Law Enforcement Lockup boxes and trunk tool boxes.
Advanced Northwest Welding, LLC, is an authorized distributor for Highway Products, Inc. We sell, build, service, and repair Highway Products here in Oregon and throughout the Northwest including Idaho.
To see the most current line of Highway Products available through Advanced Northwest Welding, LLC, Click Here to Download the Brochure. It is a rather large file so be patient.
Highway Products Tool Boxes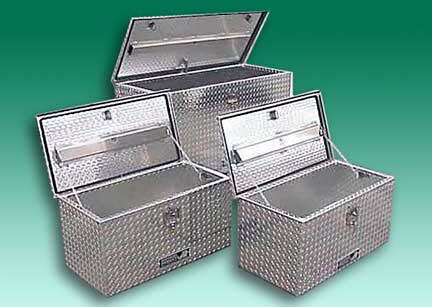 Go light! Go aluminum with Highway Products professional grade tool boxes.
This unique line of aluminum tool boxes are constructed of the thickest grade of aluminum stock utilized in the industry: 1/8" marine grade weather-resistant diamond plate aluminum.
Top Lid tool boxes are unique in that you can get a lot of cargo in them and it is pretty easy to retrieve when you need it. Very little wasted space.
Aluminum Flatbeds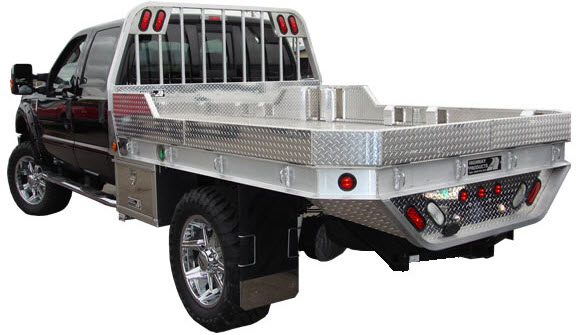 Aluminum truck flatbeds from Highway Products are tough! Aluminum flatbeds:
carry more cargo
look great, and
are more fuel efficient then steel flatbeds.
Contact us today to order a standard or custom aluminum flatbed package for your truck.
Highway Products Aluminum Service Bodies
Aluminum truck service bodies from Highway Products are light and tough! The service bodies are built with the same materials that Highway Products uses on their semi-tractor truck tool boxes.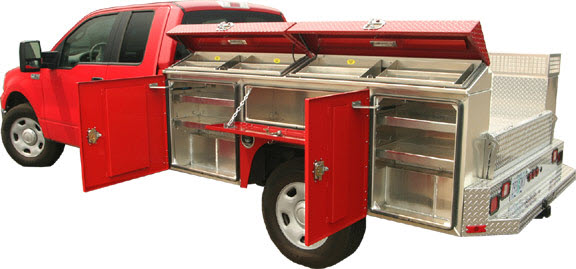 Did you know that aluminum service bodies weigh 600 to 1000 lbs less than comparable steel service bodies?
How much gas or diesel can you save if you are 1000 lbs lighter?
What is steel's biggest problem other than weight? Rust!
With aluminum, rust is not a problem. Highway Products uses marine grade aluminum in construction of their truck service bodies.
Contact us today to order a custom aluminum service body for your truck.
Law Enforcement Lockup Box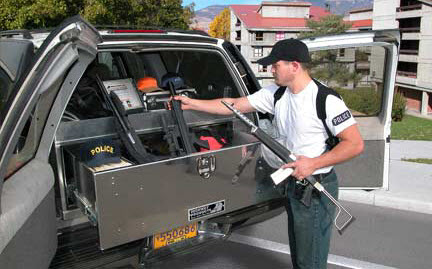 An all aluminum lockup box to protect your valuables in an SUV.
Law enforcement officers use them for easy access to firearms, ammunition, explosives, bullet proof vests, flashlights and raid gear as well as for storage of evidence.
EMS personnel find them useful for securing drugs and medical supplies— with room for a defibrillator on top.
And firefighters find them essential for storing gear, portable radios, hard hats, fire shelters, HazMat items, and ICS plan files.
Security is assured by the stainless steel three-point "T-handle" lock. Used by the FBI, state highway patrols, municipal fire companies, providers of emergency medical services, and professional agencies nationwide.
Secure your valuables.
Call Advanced Northwest Welding, LLC today to order your own lockbox.
5th Wheel Tool Boxes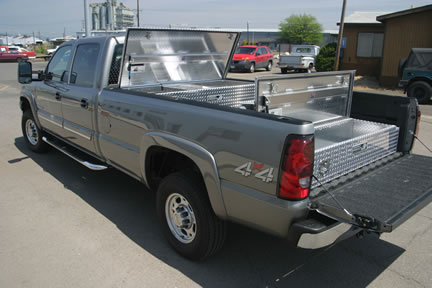 Get your tools and other stuff out of the RV or horse trailer and put it in a tough durable aluminum tool box.
Built for serious RV'ers and those pulling horse trailers, the 5th Wheel Tool Boxes are built so the top is below the sidewalls of the pickup. You won't bump into the tool box with the trailer during sharp turns.
Highway Products, Inc. 5th Wheel Tool Boxes have easy lift trays, making organization a snap.
Contact Advanced Northwest Welding today and get a custom made 5th Wheel Tool Box for your truck.
Back To Top of Highway Products Tool Boxes Page